Dyeing - Coloring
YOU PREFER IT COLORFUL? We offer a wide portfolio of colors for your design patterns and deliver special colors upon consultation.
Scope for dyeing
sample, functional and design parts made with laser sintering from polyamide
for individual coloring
for a more significant feel
for accents
as an impregnation (watertight & dirt-repellent)
as a protection against abrasion
as UV-protection against color changes under effects of light
Color palette
Unsere Farbpalette für Standardfarben - mit dabei ein echtes Schwarz (rechts unten im Bild) bietet schon eine große Vielfalt, aber auch Sonderfarben sind nach Absprache möglich (so gut wie alle RAL-Farbtöne).
Maschinen
DyeMansion DM 60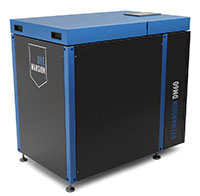 DyeMansion GmbH
In einem Tauchverfahren unter Druck und Hitze werden helle Teile in der DM60 gefärbt. Die Farbpigmente und Zusatzstoffe, die sich in den Farbkartuschen befinden, ziehen in die Poren der 3D-gedruckten Kunststoffteile ein. Dabei werden auch Bereiche, die bei einer Lackierung nicht erreicht werden können, eingefärbt. Die typische Eindringtiefe des Verfahrens liegt bei bis zu circa 0,2 mm.
Und was bedeutet das für Sie?
Farbige Objekte visualisieren künftige Einsatzgebiete schneller und realitätsnäher.
Kleinserien sind direkt verwend- bzw. einsetzbar.
Und das Besondere daran:
Der Produktionszeitraum verlängert sich nur um ca. 2 Werktage.